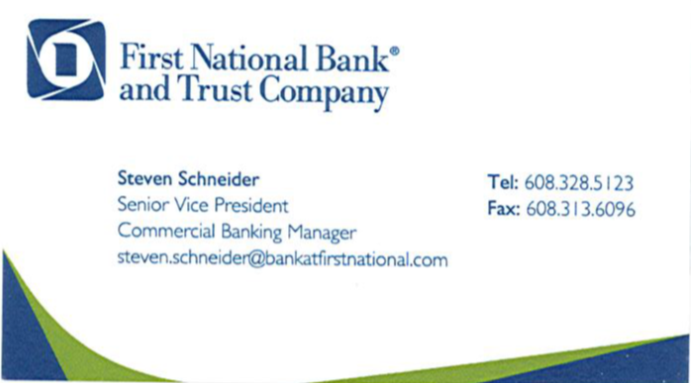 Agronomy, technology, application and communication are only a few of the skills we will be using to keep your operation working side by side with our operation.  We will be continuing to keep you informed on the lending institutions we work with and any and all new programs that may be available to you.
First National Bank and Trust with offices in Monroe and Argyle is an active Agricultural Lender in Southern Wisconsin.  The bank offers a wide variety of Agricultural Loans that can assist the farmer to achieve its financial goals.  In addition the bank is a USDA / FSA Preferred Lender.  The bank is committed to Agriculture and recognizes its importance to the success of our communities.  The bank has built a team of experienced Agricultural Lenders to serve our communities.
For an appointment, please contact Steve Schneider, Senior Vice President, First National Bank and Trust at 608-328-5123 or at steve.schneider@bankatfirstnational.com.
Laurie Fink