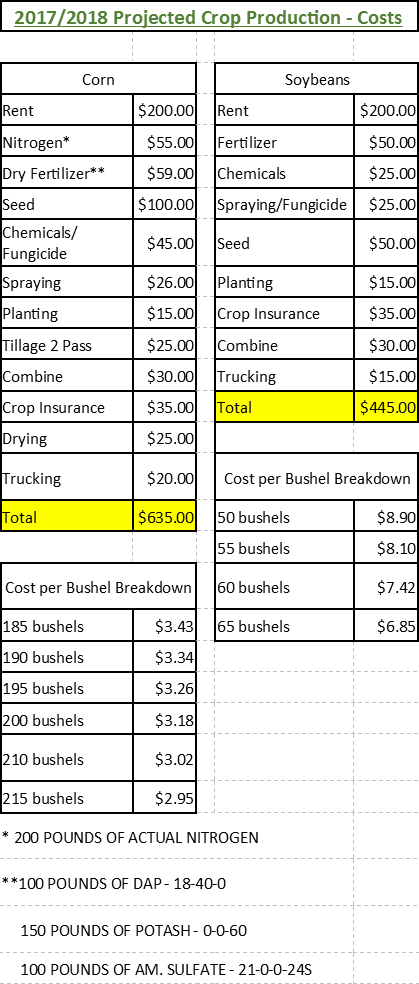 Well, it's been quite interesting. I thought we'd have spring in February, then March was even colder than February. All in all, we started out normal between the rainy times and we are still finishing up planting. One thing for sure, crops planted in April or early June really are not that far apart as we've had no real accumulation of heat units yet. I did a forecast of crop production costs for    2017-2018. Prices for fertilizer are at 10-15 year lows. With other prices dropping it makes commodity prices easier to deal with.
Once again, the key to  profitability is yield. We need to maximize the yield to get a profit at these commodity price levels. Commodity prices have been on the upswing but make sure you're ready to protect a profit with your marketing organization. We can also give insight on how to lock in these profits.
Remember last year corn reached a peak in mid-June for about 24 hours, and then the bottom dropped out. We need to be ready to take advantage of what the market gives us. WS Ag can help you have a profitable year by maximizing your yield and helping you have a great growing season. Also, look at your input costs, because they are at historical lows. This will not last as N-P-K are under valued versus the rest of the world, we are on a low-price island especially for nitrogen products.
We at WS Ag have the trained agronomists to help you maximize your yield potential and profits. We can formulate the right plan for your crops this growing season as well and diagnosis problems and solve them with a precision formula. Contact us to have a profitable growing season, no matter what this season presents us.
Kent Ganske