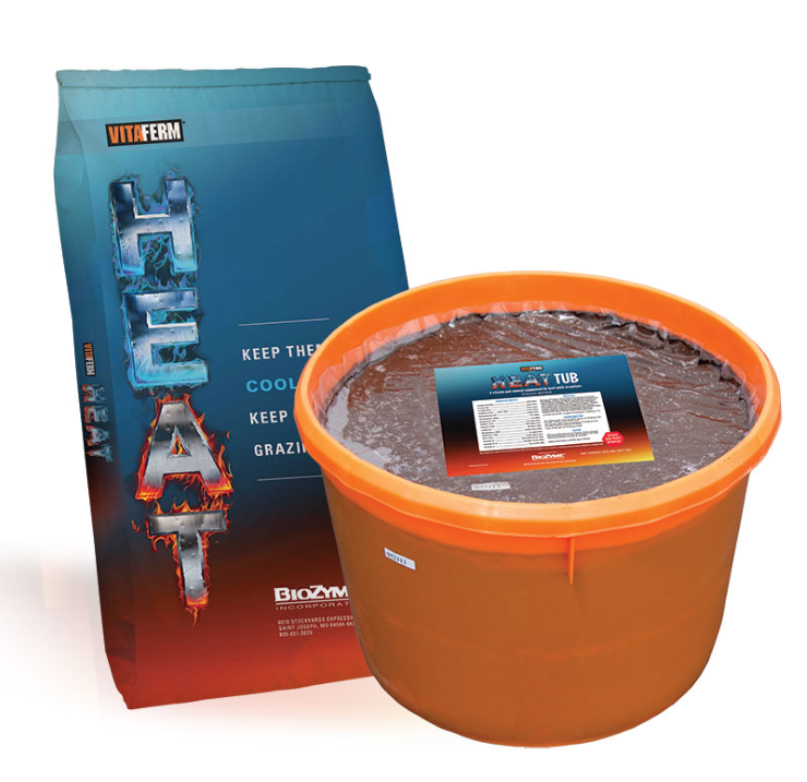 VitaFerm HEAT is a natural vitamin and mineral supplement used to reduce heat stress during temperatures of 70 degrees and above, or anytime cattle are grazing fescue. While fescue may serve as an abundant and hardy forage for cattle to graze on, it can contain a fungal endophyte that is actually toxic to cattle. It can interfere with the animals' ability to cool itself, causing heat stress, weight loss and reproductive complications.
Scientifically formulated, VitaFerm HEAT provides the correct balance of required minerals and   vitamins to compliment summer forages during lactation and to maintain and overall herd health. With the addition of Biozymes proprietary Amaferm advantage- a natural feed additive that acts as a prebiotic to increase digestibility and maximize the energy value of feed. VitaFerm HEAT has been researched to help cattle perform during heat stress and improve forage digestion and microbial growth in ruminants, which is often severely compromised by fescue.
Additionally, VitaFerm HEAT contains XTRACT 7065, a unique blend of clove, cinnamon, and chili peppers (Capsaicin) to help maintain circulation to support animal performance in both heat and fescue  situations. The combination of Amaferm and Capsaicin lowers body temperature, which can help improve conception rates and maintain pregnancy. Garlic is then added to the formula, which acts as a natural insect repellent.
VitaFerm HEAT is a must-have product for the summer months or anytime cows are experiencing heat stress. This product comes in 50 lb. bags or 200 lb. easy to feed tubs. Check them out at WS Ag Center.
Doug Fish